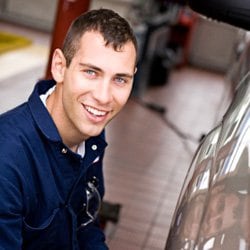 Genuine Ford Parts in Rockford
When it comes to accessorizing your crossover, SUV or truck with the perfect replacement parts or new customization elements, don't trust your vehicle to just any after-market parts store. Let the parts center at Anderson's Rock River Ford in Rockford get you the perfect part, every time. Our in-house parts center is staffed with Ford experts who have a vast array of important replacement parts and accessories at their fingertips and can help you find exactly what you're looking for. Genuine manufacturer parts are better for your vehicle, and we'll help you find them.
Genuine Ford Parts at Anderson's Rock River Ford
If your main concern as a Belvidere, Durand or Rockton driver is finding reliable parts, look to Anderson's Rock River Ford for help! Our parts department is ready to help drivers find a host of genuine parts, including Ford parts! We'll help drivers find the same parts used by Ford in production so that Belvidere, Durand and Rockton drivers can rest easy knowing the parts are high-quality and made specifically for their vehicle! Whether imitation parts have failed you in the past or you just want to be doubly sure that the parts last, the Anderson's Rock River Ford parts team is ready to help!
Let Us Help You Find the Right Parts at Anderson's Rock River Ford
Our parts department makes it easy to get the parts you need for your crossover, SUV or truck. The most convenient option is ordering the Ford parts you need online. However, you can also give us a call, and we can help you with ordering or any questions you might have.